Liesbeth - 07 / Aug / 2018
Top 10 fashion colours winter 2018-2019
What are the fashion colours for winter and fall 2018-2019? This shopping colour guide with the latest colour trends in fashion will give you some clues.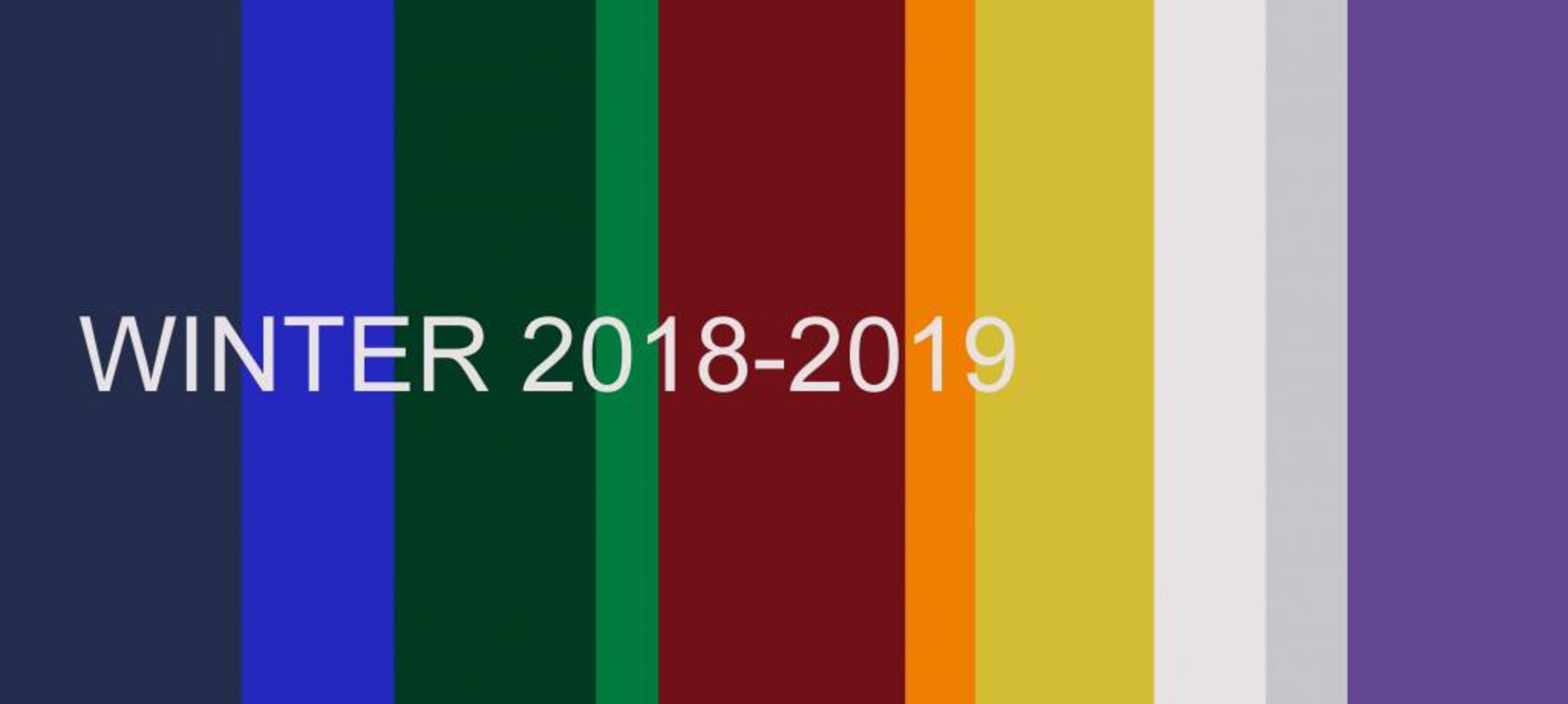 The fashion colours for autumn and winter 2018-2019
The new fashion colour palette is exuberant and versatile with a riot of strong colours, everything revolves around self confidence and a unique identity, you immediately see influences from society such as empowerment and #metoo to emphasize an independent strong personality, who is grounded and free.
Translated to the fashion image for this fall and winter, there is a great variety of styles and combinations of them. The strong colours and explicit materials emphasize individuality and empowerment, sturdy boots and large bags give the feeling of being grounded and freedom. Ethereal, androgynous and earthy are the main themes, these are translated differently by using lace and light translucent materials with bright colour accents. Scottish tartan, stripes, florals, fake fur and animal prints in dark earthy tones combined with lacquer, metallic and silk in expressive colours.
In short; show who you are and create your own style.
The winter colours 2018 can be divided into four groups: blue, green, warm red, white / grey
Top 10 2018 winter colours:
Night blue
An easy basic colour that you can combine with all the other colours and is beautiful ton-sûr-ton with matching blue colours, vary with materials such as a wool dress with a lacquer accent belt. On the catwalks you can see night blue combined in tartan or stripes with emerald green, ceylon yellow and crimson red.
Royal blue
A colour that suits and flatters everyone, combine with crimson and ultra violet for a funky look, mix with materials in different colours. Would you prefer something more demure? Then royal blue is chic with linen and light grey.
Dark pine green
Fits within the trend line of earthy and natural shades, is combined with gold- or silver-coloured metalics and lacquer, match with rusty orange or ceylon yellow for a sparkling colour accent.
Emerald green
Emerald green is mainly used as accent and contrast colour in accessories, think of a sturdy belt, scarves, bags and boots. Looks balanced in combination with pine green or night blue, and gives an exciting mix with orange and crimson red.
Crimson red
One of the favourites on the catwalk in many variations of material, matte, shiny, lacquer, monochrome or animal print, fake fur and in a tartan prints combined with night blue and smarargd green. This warm red colour gives everyone a healthy complexion.
Rusty orange
Together with ceylon yellow this is the happy accent colour of this season, combine a green outfit with orange leather gloves or bag for an instant update of your wardrobe.
Ceylon yellow
In almost all fashion collections this colour yellow plays a role, ceylon yellow is a matte yellow colour that reminds of spices and fits nicely with the warm earthy tones while also giving an unexpected accent. This colour must suit you as ceylon yellow does not flatter every skin tone.
Linen
Off white and leaning towards light grey, is often combined with light grey, the basic colour for an ethereal romantic and very feminine look. Seen in lace or voile dresses combined with velvet and embroidery or applications in shades of grey and bright contrast colours, linen gives a timeless image.
Quiet gray
A warm soft grey hue that blends nicely with all the other colours, for a soft look with white and linen and as a clear accent with the dark colours from the fashion colours for this winter. Also worn monochrome this is a chic colour that needs a good make-up, a crimson red lip for example, so you do not look pale.
Ultra violet
The wild card is ultra violet, proclaimed by Pantone's colour experts as colour of the year in 2018. We like it in combination with crimson, royal blue and pine green.
Browse through ARLIZI's new jewelry collectionto get inspiration for matching accessories.