Liesbeth - 30 / Jun / 2017
Top 10 fashion colours winter 2017-2018
What are the fashion colours for winter and fall 2017-2018? A shopping colour guide with the latest colour trends in fashion.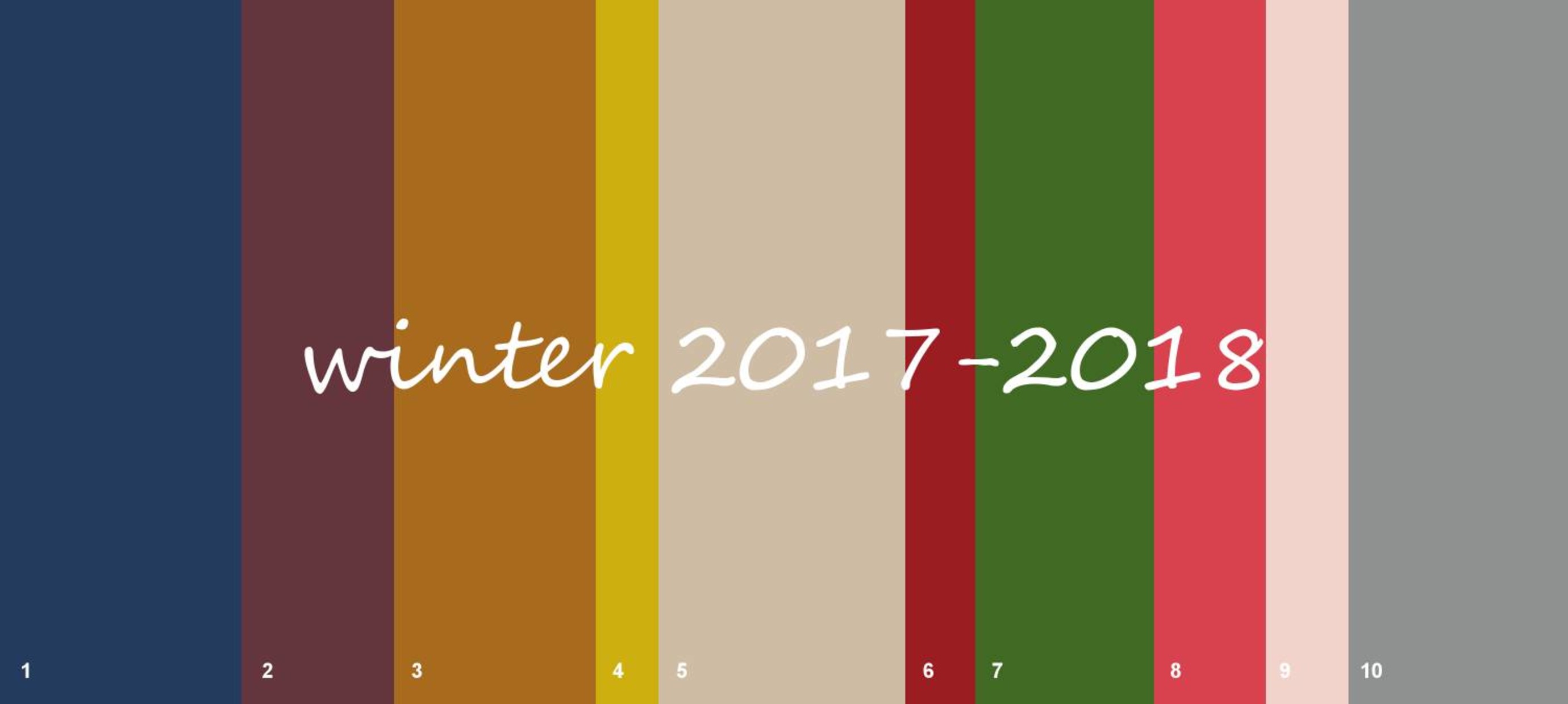 The new fashion colour palette looks warm with deep colours that you can mix to complement or contrast each other. The matte colour trend is also present in fashion; make it exciting by matching different structures and accentuating with shiny materials. Another major trend line is related to nature; both in natural materials and in colour use and organic and flower patterns.

Top 10 2017 winter colours:

1. Dark blue
The trend colour is (denim / dark) blue. From very dark night blue to medium blue this is the basic colour for the coming season. This colour is easy to combine with other colours, you wear dark blue tone-on-tone or top to toe in denim, and it's always beautiful with cognac and grey.




2. Plum
A warm deep colour that tends to purple / brown, giving you beautiful accents in your look. With grey, blush rose or mauve sand you can make a nice match.

3. Cognac
Aside from the fact that cognac as a drink is completely hot, this colour never bores, make a classic combo with dark blue or a slightly more bold choice with mustard yellow or moss green.

4. Mustard yellow
A beautiful colour, just look at the tone of your skin colour because this colour does not flatter everyone, very pretty with dark blue, grey or cognac.

5. Mauve sand
With blush rose and plum, you turn this beautiful base colour into something stunning.

6. Classic red
Seen all over the catwalk from very bright red to deeper red colours, often monochrome with contrast in matte and shiny fabrics and leather.

7. Moss green
Green is the fashion colour of the moment, both in home decor and in consumables and of course fashion and jewelry. A matte green colour is the starting point and matches with all other colours from the top 10.

8. Raspberry
Is the colour that cheerfully stands out of the colour palette, this flattery colour suits everyone and lights up a darker outfit, think of adding a scarf, gloves or a cool little cross-body bag in raspberry.

9. Blush rose
In line with the nude trend, the blush pink is a slightly warmer colour, which is very beautiful with grey, especially in combination with rose gold jewelry.




10. Steel grey
Grey, pink and raspberry are the trendy combo, and grey is a classical combination with dark blue, cognac and green or a pair it with one additional accent colour.

Browse through ARLIZI's newjewelry collectionto get inspiration for matching accessories.