Liesbeth - 13 / Mar / 2018
Fashion colours spring summer 2018
We look forward to sunny and warm weather and this year it will be a colourful spring and summer, with subtle neutrals, sherbet colours or bright hot primary colours, the fashion colour palette for 2018 is cheerful and warm.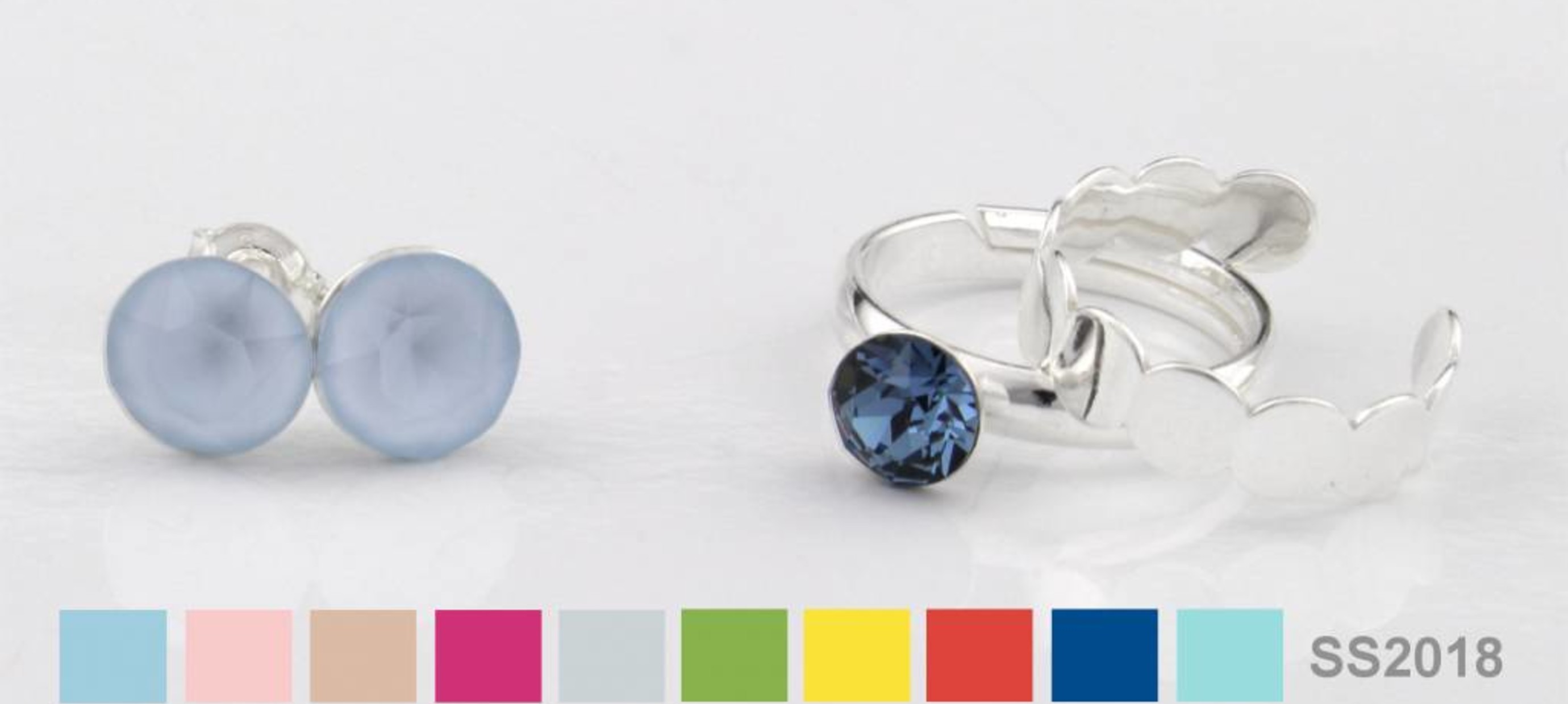 Fashion colours spring summer 2018
The spring and summer 2018 fashion and accessory colour trends promise cheerful, warm and colourful collections with subtle neutrals and sherbet colours or bright warm primary colours, combined with accessories that add a subtle note or make a clear statement.
With ton-sur-ton you always make a statement, especially in a distinct colour like buttercup yellow or bright pink, make a combination of sorbet colours or neutral tones with a splash bright pink or royal blue, a mix of shiny, mat, leather and lackered materials is a must and do not forget to adjust your jewelry to your look!
In addition to monochrome and colour blocking, floral prints are the trend this spring and summer, keep your accessories minimalistic jewelry so that your outfit is in balance.
Top 10 2018 spring and summer colours:
1. Baby boy blue
This easy colour suits everyone and can be combined nicely with neutral basics, white, grey, blush, beige and with a distinct colour like bright pink. Baby blue is THE trend colour of this season.
2. Rose quartz
This subtle soft pink shade combines very nicely with neutral nude and beige shades, add a few accessories with a bright colour and then you nail the trend of this season. Combine with silver, rose gold jewelry or a combination of these.
3. Neutral nude
The nude or blush tint has been trendy for a number of years, this season again but in a warmer slightly darker version. Because the colour is slightly deeper, it fits almost everyone, but it is necessary to combine with other complimenting or contrasting shades so that your look does not become boring or dull. Mixing different materials, such as mat with shiny makes an outfit more exciting.

4. Bright pink
Very nice to combine with rose quartz and neutral nude, this cheerful colour makes every outfit a party.
5. Powder grey
The ultimate and timeless basic that blends nicely with all the other colours in the palette. If you are looking for a soft combination then you choose sorbet colours and if you want an exuberant look, then you match with explicit colours.
6. Spring green
Green is still a hip colour, the version for 2018 is a bright fresh colour, with which you make a spirited combo with primary colours.
7. Buttercup yellow
A beautiful colour, just pay attention to the tone of your skin because this colour does not flatter everyone, it becomes a party with royal blue and hot red chili.
8. Hot red chili
A flattering colour makes you immediately happy. Wear it as the basis of your look, for example a beautiful shirt dress or as an accessory such as a nice belt, clutch or silk scarf. Nice to combine with big earrings, like hoops.
9. Royal blue
Blue is a crowd pleaser, chic, casual or sporty very versatile and everyone looks good in it. This season you make a combo with bright contrasting colours. Shop statement earrings for the finishing touch.
10. Light turquois
The best with sorbet colours for a soft feminine look, this is the ultimate holiday colour. Layer delicate silver necklaces and bracelets with blue accents.
Stroll through the new ARLIZI jewelry collection to get inspiration for matching jewelry.